Yes, its finally out! I've already seen it once as soon as it came out, and will go see it Sunday the 14th again! It's the best, and everyone's gonna go again and again and again! Especially Pikachu's Vacation... It Rocks! I also bought the movie's Soundtrack, which is REALLY COOL too! Don't forget about the screenshots from the movie in the Pikachu's Cartoon section!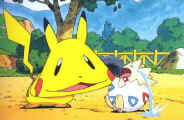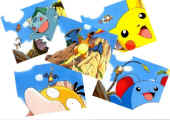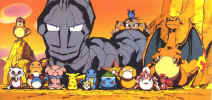 New this week, I've got lyrics to all the MP3s in the MP3s section, the most popular part of the site! Make sure you check them out, because they are really cool, and now you can finally sing along with them!!! They took forever to type up, so print them out and enjoyed them!
Another really popular part of the site is the Online Pikachu Games page that will sure keep you busy! With the adorable virtual pet, and the super-fun Pikachu versus Meowth Tic-Tac-Toe, this part of the site is sure to keep you VERY busy! I know I always spend a ton of time there... I personally am a VERY BIG FAN OF ONLINE GAMES! My favourite site to go to is iwin.com, because they've got something no other site does... PRIZES!!! With every online game you play at them, you get these special ICoins, which after you collected a ton of, you can cash in for awesome prizes! For example, I've been signed up for about a week, and the account already have over 200 ICoins, and I'm saving up for a ZIP Drive for 1000 icoins! To think I really haven't played that much... I love this site!!! You also get lots of icoins from voting at their polls or taking their daily Quiz, etc. With icoins, you can also buy tickets for big prizes like a new computer or $20 000 dollars (I bought like 10 tickets for this one!). Make sure you check them out if you want to get a whole lot of free stuff for having fun playing online games! Here is their banner:

One other awesome online gaming site I just had to tell you about is tournamentgames.com, where you play my favourite card game, SOLITAIRE, online! This site is nowhere near as simple as it sounds, though! It is very organized and has about 10 different ways of playing this cool game. Not only that, but you can compete in daily solitaire tournaments and win hundreds of dollars!!! Give it a shot... I know I always do! Here is their banner:
Keep using the new Pikachu Message Board! Lots of questions are on there about the new Pokemon Movie, as well as about Pokémon Yellow and many other Pokémon things. Do you have a question about anything Pokemon? Post it there and see if you can get an answer! Maybe you can answer some of the tens of questions others posted! Make sure you check out the popular page!
Charmander fans... have you seen CharPics - World of Charmander site at http://zap.to/charpics yet??? Then go NOW!!! Just like this Pikachu site, CharPics is a giant collection with tons of cute Charmander stuff! Don't miss it! Char! Char!
And don't forget that especially now with all the new Pokemon merchandise out, there's always cool stuff you can buy from Ruby Lane using their easy search:
That's a wrap for now! I hope you'll check out Iwin and sign up because they really are a great site, and don't forget about tournamentgames for all you competitive solitaire lovers! Feel free to use my Form Mail for anything you want to ask or tell me, but don't forget about the Message Board for your tougher questions! Next week I'll add MORE PICTURES for once, as well as a few new desktop downloads and lots more art from you guys, so make sure you return soon! Until then, Pika! Pika!
---
New since October 29th, 1999: Pikachu Tic-Tac-Toe, more art

New since October 23rd, 1999: Super cool message board, more art...

New since October 16th, 1999: CharPics, MP3s, Online Pikachu Game, Pikasso, Awards